What is plarp?
PLARP is the first larp-making boot camp of its kind in Singapore, supported by the National Arts Council. We have created a series of participatory workshops for artists, writers, theatremakers, storytellers, roleplayers, to create their own larps. Participants are introduced to larp theory and techniques through practice-based learning, inspiring more artists to create larps as a medium of artistic expression and to bring agency to your audiences.
Each cycle of Plarp consists of 3 days of in-person workshops, 1 month of self-guided activity & writing, before a final playtest with all cycles of participants.
What is a larp?
Larp (live action roleplaying) is a participatory art form where:
participants physically embody their characters
in a dramatic fictional world
set in real-world locations
while interacting with each other as their characters
to explore various themes (personal, social, political)
Why are we doing this?
Larps have been created intermittently in Singapore for 20 years. We want to transfer our skills, knowledge and experience to the next generation of larpmakers, so that more creative & inspired voices will emerge to strengthen the scene.
seed diverse audience participation strategies in the wider body of dramatic work
create a space for collaboration opportunities
explore larpmaking with enthusiasts
provide employment opportunities in larp tourism and edutainment
Who is this for?
In the last decade, Nordic larps have elevated roleplaying games to examine societal issues and deeper themes through immersive participation. Artists, dramatists and storytellers interested in activating and engaging audiences will be able to add larp methodologies and techniques to their repertoire.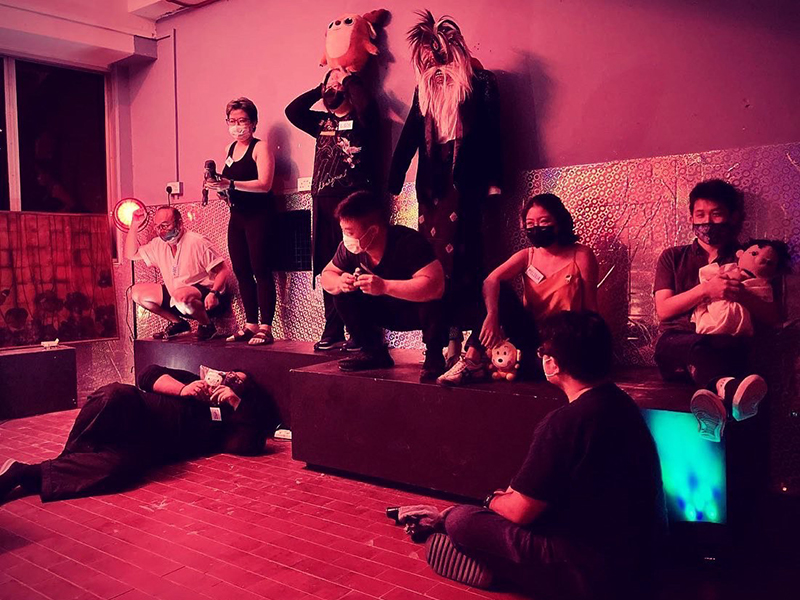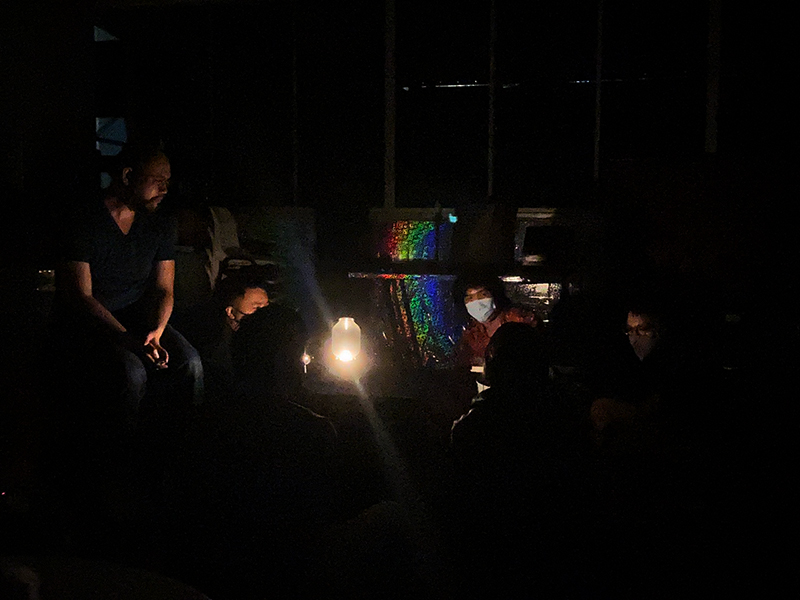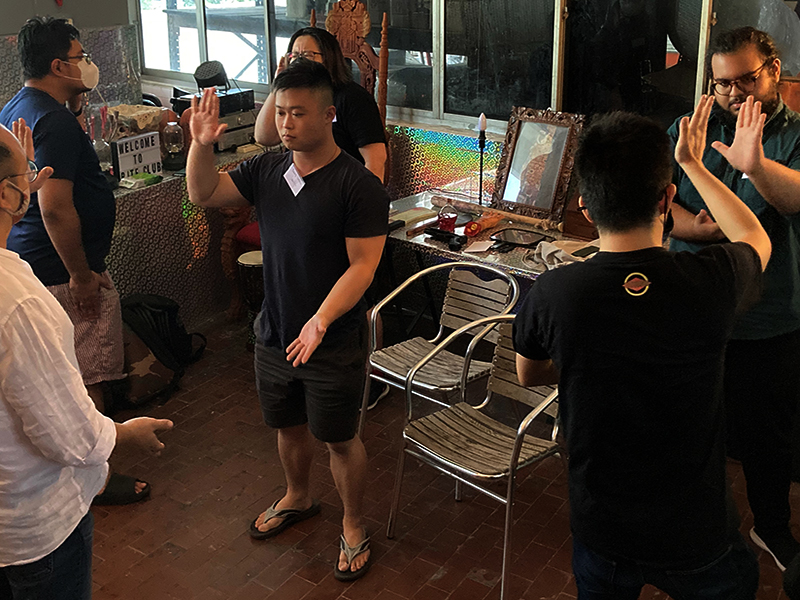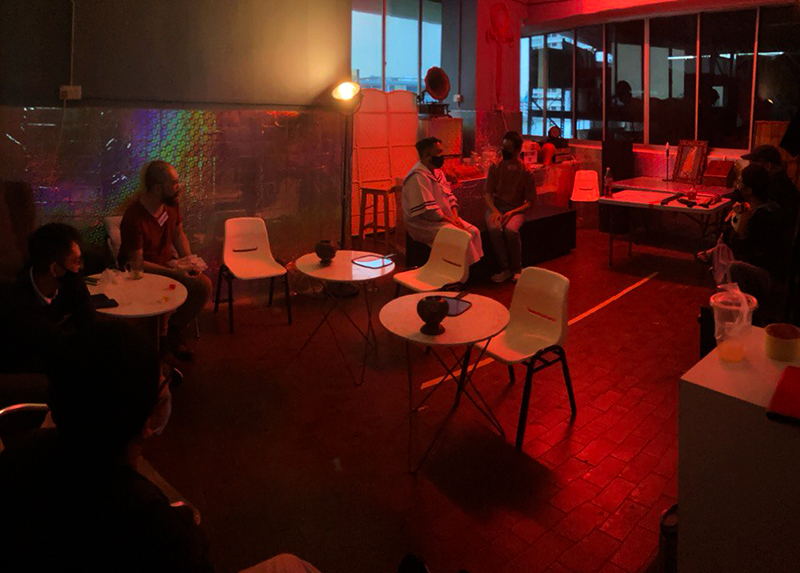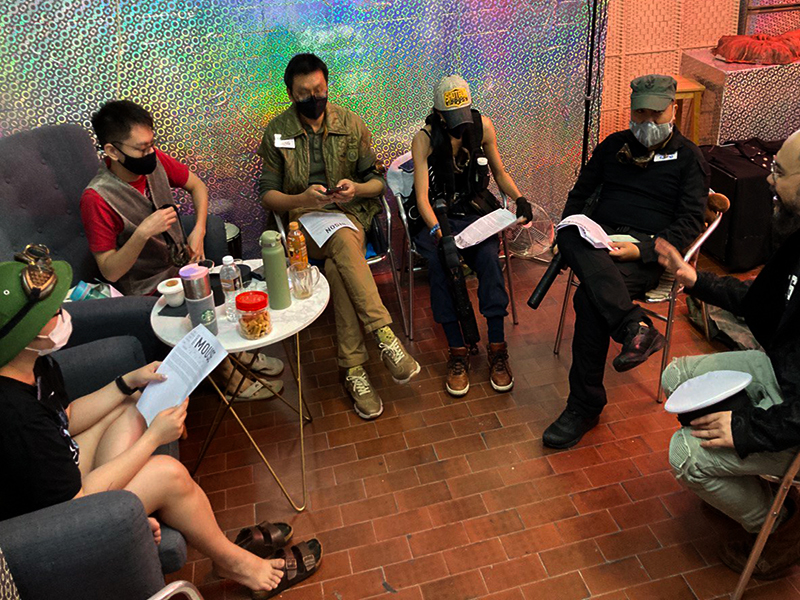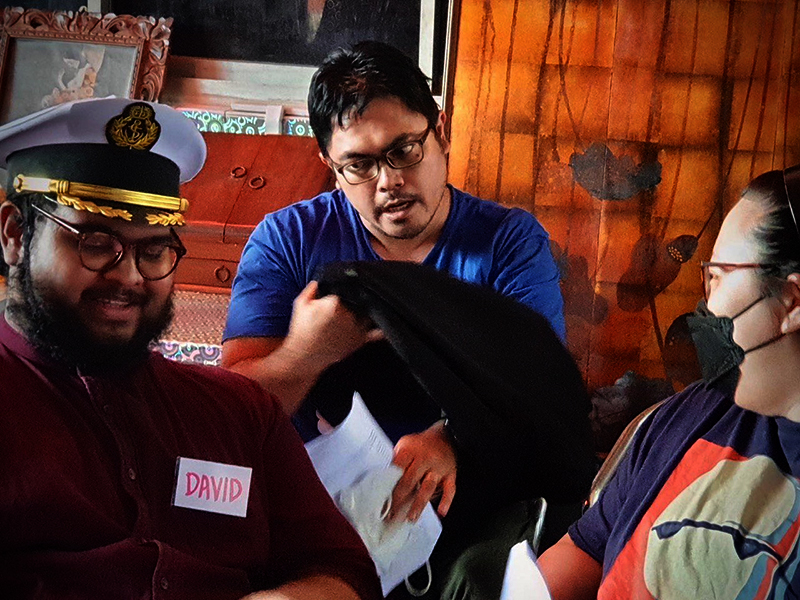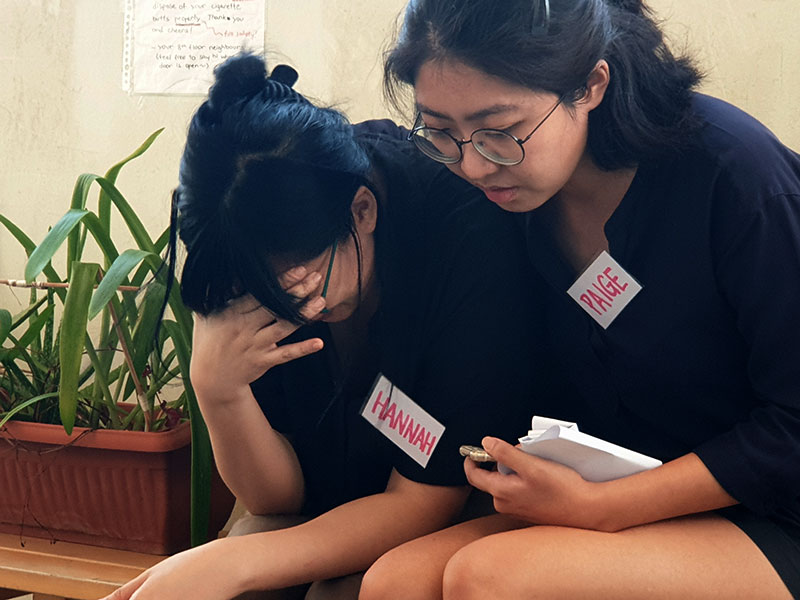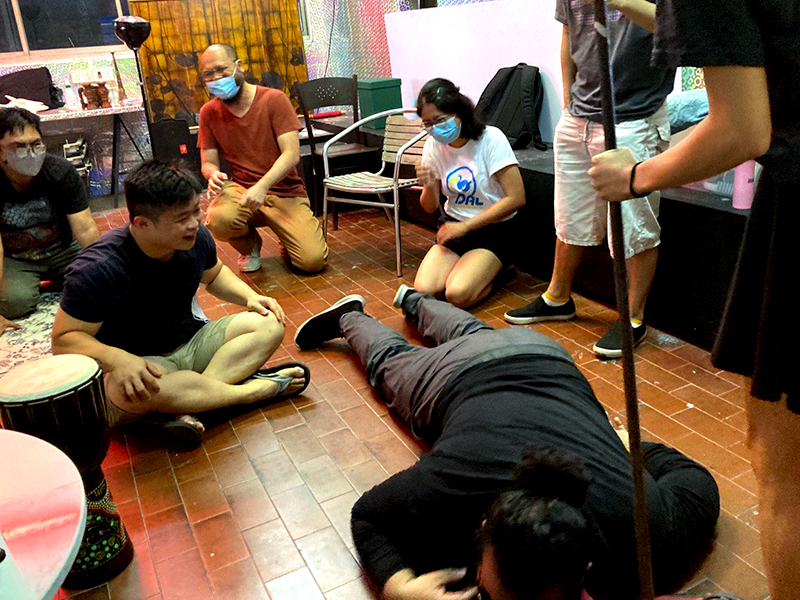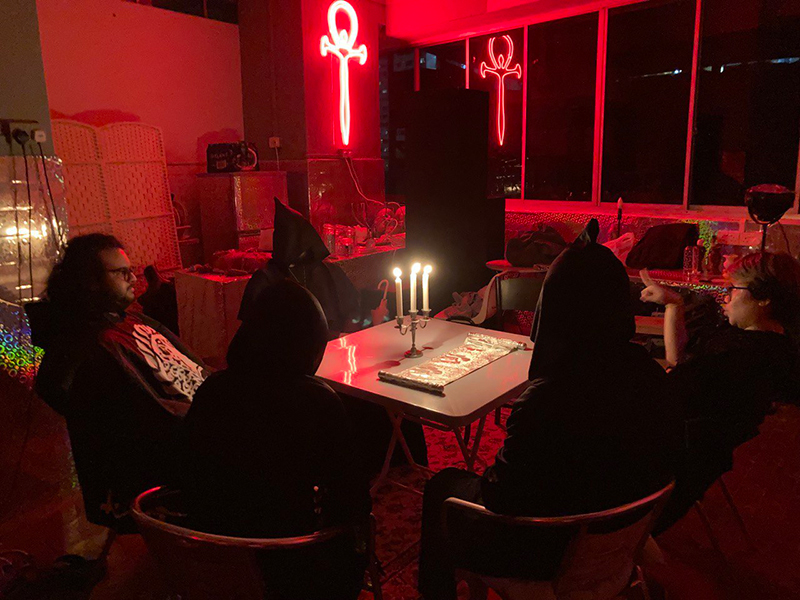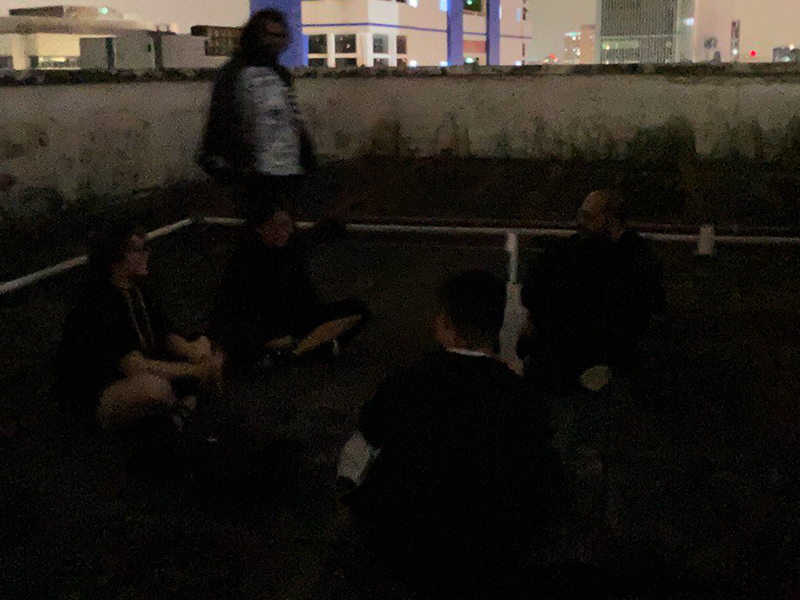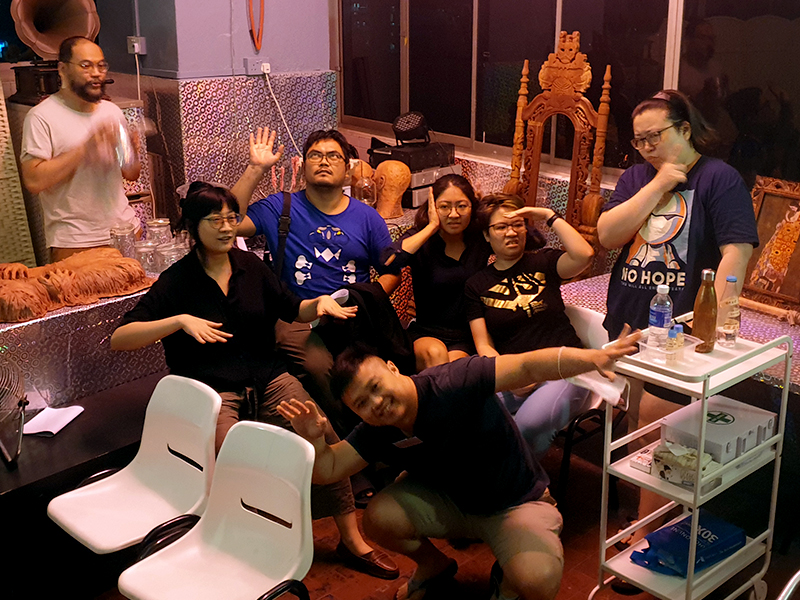 unsold toys in a thrift shop come alive when noone is watching; explores themes of growing old in a materialistic society
toys meet in a dumpster, reflecting on their experiences as the light fades
workshop pregame exercise - participants practice mirroring in pairs
a murder motel seen at various points in time; participants choose to mirror their cycles of violence or heal from trauma
pregame nego for a military tribunal larp where participants take on characteristics of animals
a relationship larp exploring old emotional traumas, set in a hostage situation on a plane
an emotional flashback scene that takes place years before, where characters negotiate a new relationship
playtest of "every chip" by Ri - chips that try to escape Purrgatory
playtest of "the stars are aligned", a hp lovecraftian larp written by feroz
"the stars are aligned", rooftop, a larp about the end of the world in 3 acts
larpwrights contemplating playtests
programme
Our focus is to provide an engaging and informative learning experience for everyone. You'll have the opportunity to experiment and explore the boundaries of larp, and there is no pressure to create polished work at your first attempt at writing a larp. Your playtest sessions are closed to the public.
Each cycle consists 3 days in-person play workshops → 4 weeks writing at your own pace → 2 days playing each other's work.
In the first weekend, you play a range of larps to learn and understand what they are. Play sessions are augmented by workshops and post-game debriefs. At the end of the first weekend, you may choose team to write a minilarp, or write solo. You'll have a month to create a short larp, with access to a communal playtest space, and consultation with trainers. After your larpscripts are written, we reconvene for a second weekend where you'll get a chance to playtest your new work with your fellow larpwrights. Experienced larp makers will facilitate discussion and analysis.
Day 1

 Welcome & orientation
Introduction to larps

Types of larps, characteristics & demands
Evolution of larps after Knutpunkt
History of larps in Singapore

Contemporary larps in Singapore

Play a chamber larp

Debrief, reflection and analysis

Day 2

Pre-game briefings

Safety, calibration, negotiating grades of boundaries
Social contracts & magic circles, playing for pain
Sample exercises, mirroring

Play a chamber larp

Debrief, reflection and analysis

Fostering narratives and storytelling via world-building and role-play
Post-game briefings

Aftercare, trauma decompression, bleed, retelling
Sample exercises

Day 3

How to write a larp

Game mechanics (and absence)
Levels of consent in play & negotiation
Time manipulation (cut/substitute, flashbacks, timed reveals)
Creating playable characters for larps

Character relationships & calibration
Weaving vs baking plot hooks
Playability considerations
Accessibility of experiences

Types of endings & levels of participant agency

Play a chamber larp

Debrief, reflection and analysis

Month break:

Larp writing assignments, pitches, ideation

Day 4 (playtests)

Playtesting

Feedback: debrief, reflection and analysis

Workshop discussion: Design & production challenges of larps in Singapore

Day 5 (playtests)

Playtesting

Feedback: debrief, reflection and analysis

Workshop discussion: Larp as cultural, tourism or edutainment products in Singapore
participants' feedback

"Honestly the team did an amazing considering how we were all coming out of the pandemic, and was able to hold space for both transferring of knowledge and meaningful discussion!"
"Location was quiet and conducive to dropping our RL personas and roleplaying for the first time with strangers to work together, understand, and write larps. I'm shy, so to me, the group size was perfect, any larger than 10 and I would have felt like not participating and just watching."
"...a wonderfully illuminating experience for learning about LARP and how it can be used as a "higher" art form confronting difficult issues and exploring big questions more than just being a fun genre rpg."
Support
Selected participants' workshop fees subsidized by the National Arts Council of Singapore. Thank you!